Create and a send a real postcard to your loved ones.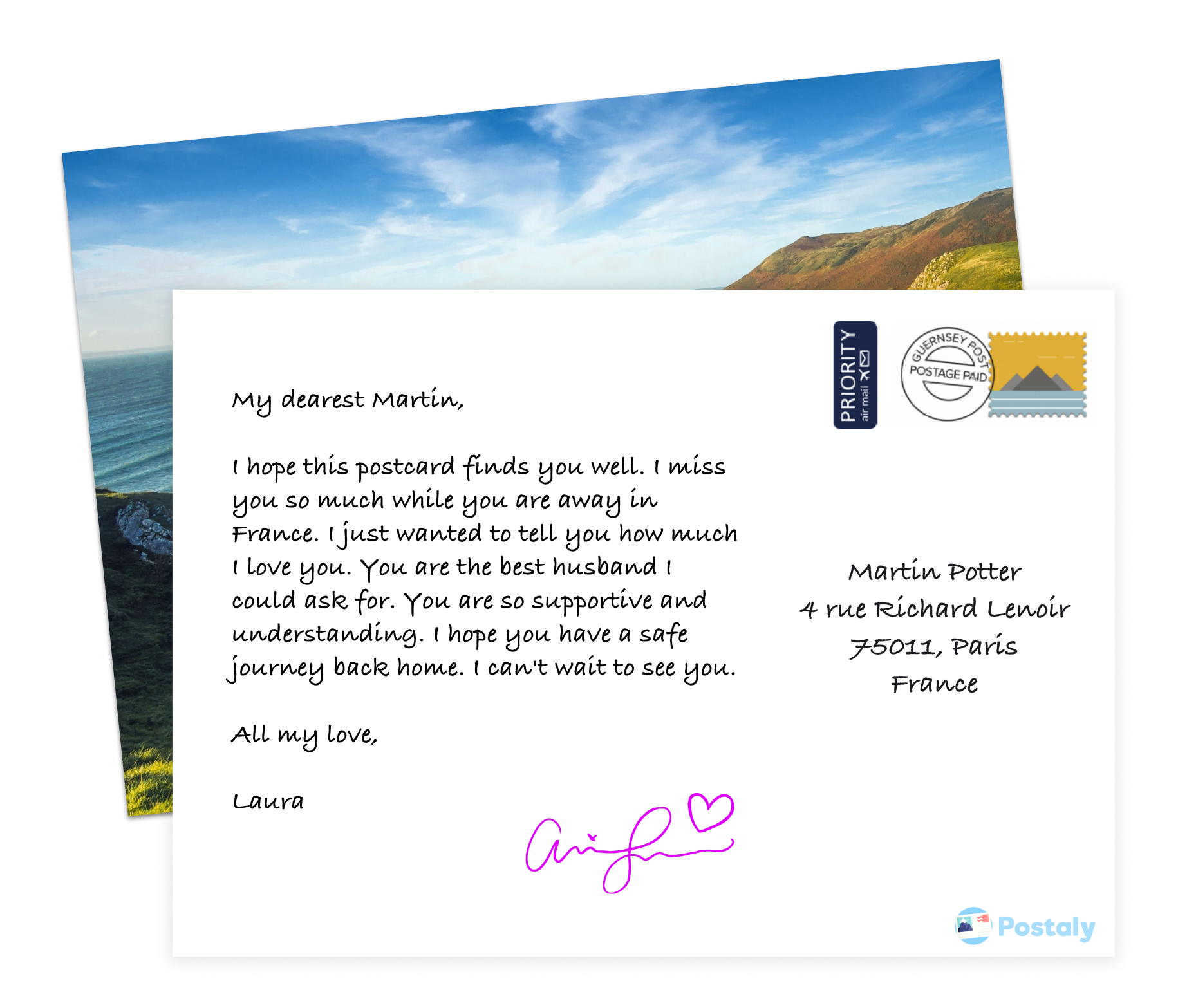 Make your postcard unique by uploading your own photos or pictures. Your image will be printed on one side of your postcard. Your postcard will be a memorable piece of souvenirs to stick on the door of the kitchen fridge.
Your postcard is much more than a simple piece of paper so we make sure to print it on quality paper. Once your postcard is created and personalised to your taste, we will send your postcard to our printing center. The content of your postcard will be printend on plastic-coated paper that resist to water and oxidation.
Write your text and select among a various set of fonts to customise your postcard to your taste. The fonts we selected are diverse enough for you to adapt the font of your message to the context. Some fonts even try to imitate handwriting to make your postcard look more "homemade".
You can use Postaly directly on your browser from your phone or laptop. No need to download and install an app to start creating and send your postcard online. The only things you need are a device and an internet connection.
Save the hassle of find, writing and mailing a postcard yourself. With Postaly you can send your postcard in 5 minutes and a few clics directly from your phone or laptop. Just customise your card and we take care of printing and sending it for you.
We don't care about your data. No need to fill an endless sign up form and to create an account to use Postaly. Simply create and send your postcard in 5 minutes with a few clics.
✔︎ Stock paper with plastic coating (water-resistant)
✔︎ 6×4 inches or 15×10 cm
✔︎ Printing in color
✔︎ Recyclable paper
How to send a postcard online?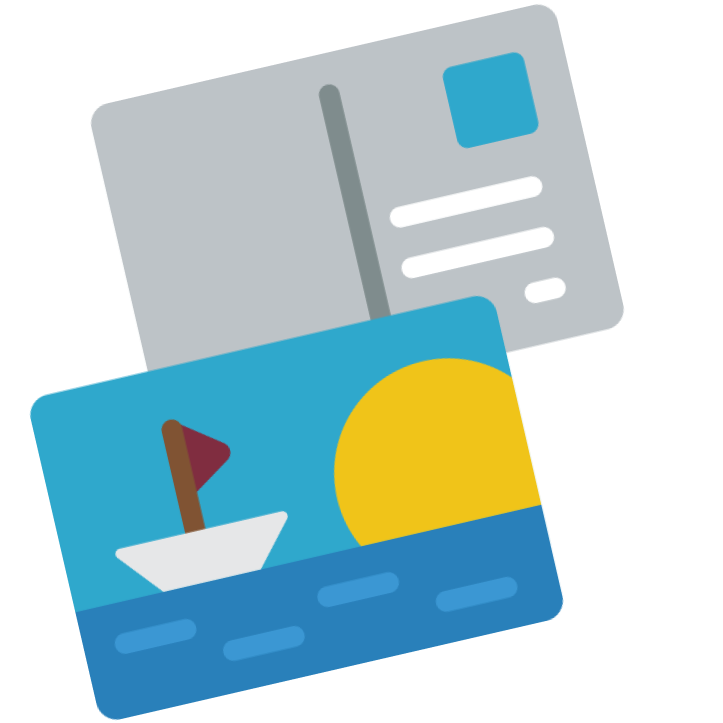 Upload your photo and write your message to make your postcard unforgettable for your loved-ones. Let your creativity flow!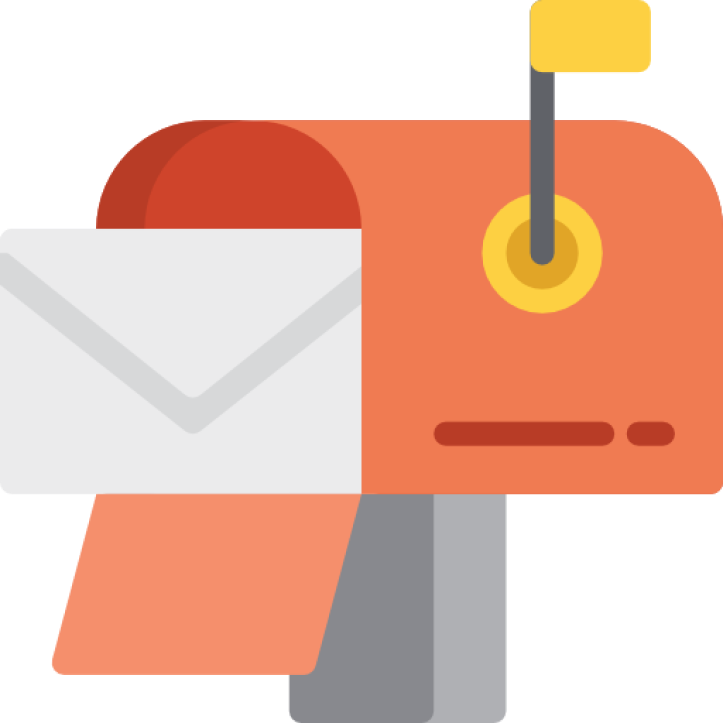 Enter the recipient address. You can send your postcard all around the world for the same price.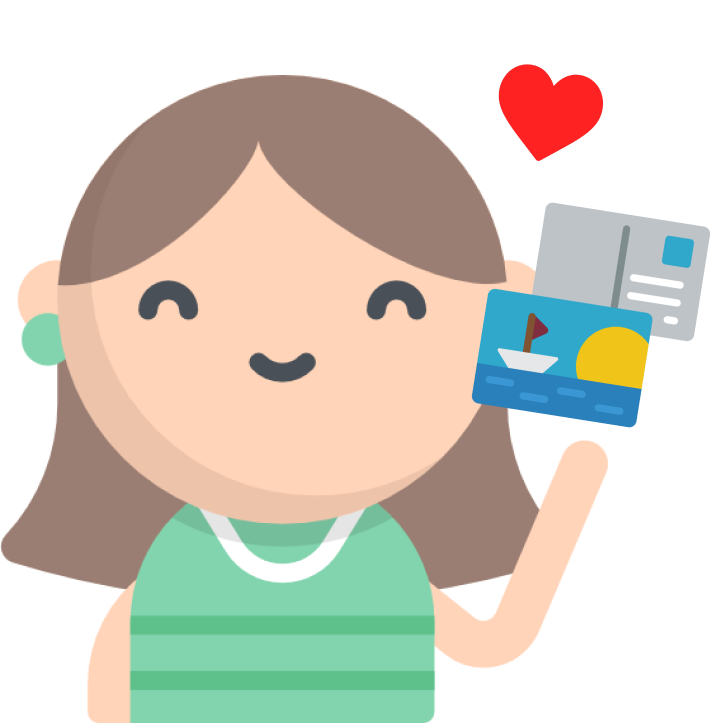 Thats it! We take care of the rest. Postaly will print, stamp and send your postcard for you.
Simple price. No hidden fees (we are not a bank). This price includes printing, stamping and sending your card all around the world.
✔︎ Printing
✔︎ Stamping
✔︎ Worldwide delivery
Used by 10 000+ happy users
Just received my first postalie postcard 🤩 the quality is great, and it can be customized ! We may have forgotten this feeling when you open your letter box, and you have something else than adds... Postalie is perfect to please the persons you love !
Amazing customer experience. Very easy to use, practical, filled with many details and suprises such as a personalized signature section, that I've used to make a drawing that my friend will definitely love. As well as the many services they offer, such as sending a card to a celibrity you love...10/10!!!
Amazing service. The product is great and it really helps people around the world connect in a more personal way.
This app is really nice, especially if you like photography. It lets you use your own photos and has a lot of features to personalize your postcards. It makes sending cards a lot easier and saves a lot of time.
Really easy to use, with no account to create! I highly recommend it!
Amazing idea, efficient and well designed ! Highly recommended 🙂
Frequently Asked Questions
Create and send your postcard in under 5 minutes with a few clics.
No app & account required • Private and secured