Send letters and mails
online
Create and a send private letters to your loved ones.
Instead of finding, writing, and mailing a letter yourself, use Postaly. With Postaly, you can send your letter in 5 minutes directly from your phone or laptop. Just customize your letter and we'll take care of printing and sending it for you.
Your letter will be folded in a private white envelope so the message you wrote stays between you and the recipient. The envelope is included in the price of your order.
Choose the font for your text that best fits your message and the tone you want to convey. Some fonts even imitate handwriting to give your letter a more "homemade" look.
You don't need to download an app to create and send a letter online. All you need is an internet connection and a device.
To make your letter more unique, you can even draw a custom signature at the bottom of your letter. If you don't want to sign your letter and stay anonymous, simply leave it blank or draw something else.
We don't care about your data. You don't need to fill out an endless sign up form or create an account to use Postaly. Simply create and send your letter in 5 minutes with a few clics.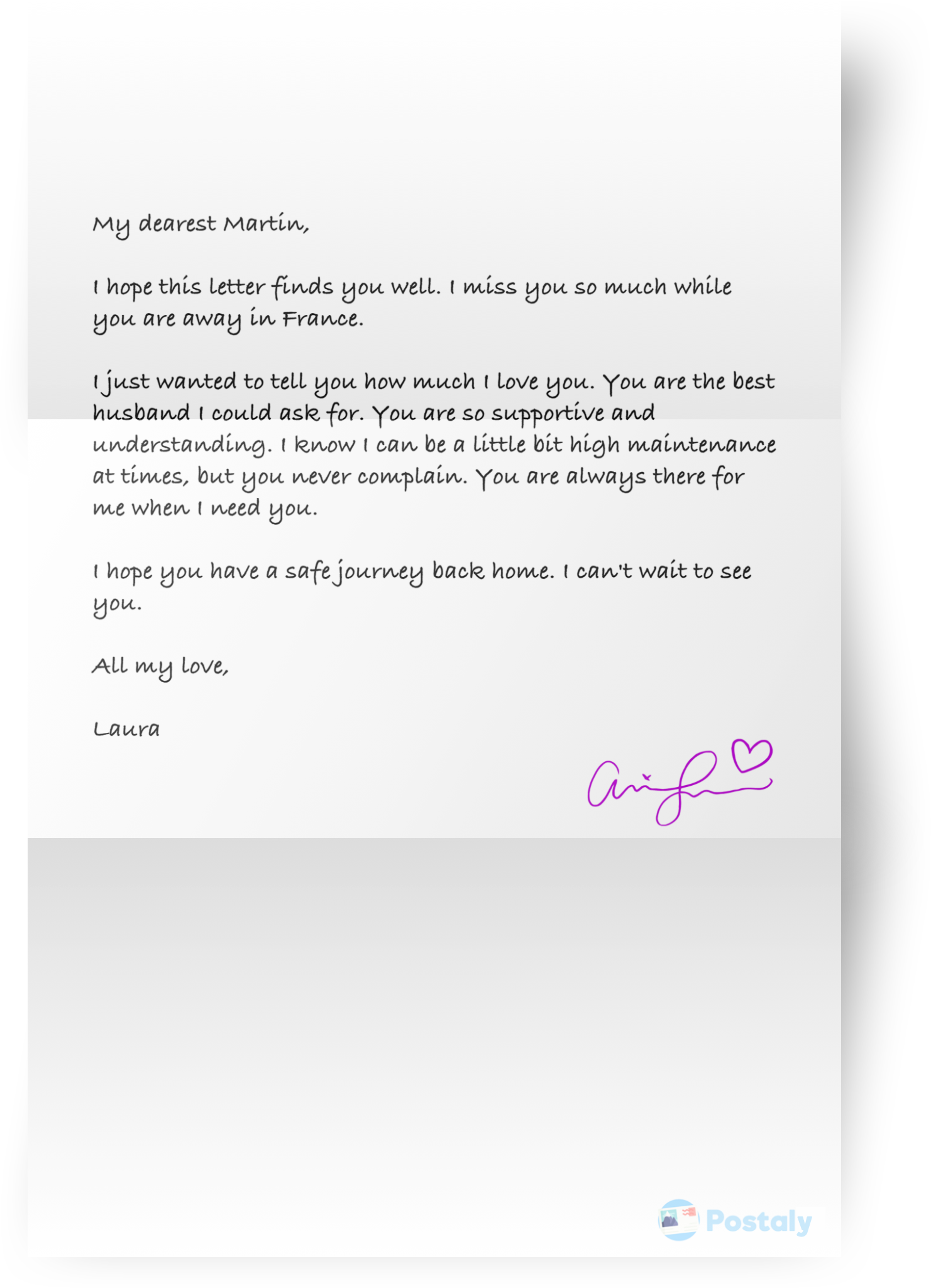 ✔︎ Standard A4 paper format
✔︎ 4×11 inches or 21×29,7cm
✔︎ White envelope
✔︎ Color printing
✔︎ Recyclable paper
How to send a letter online?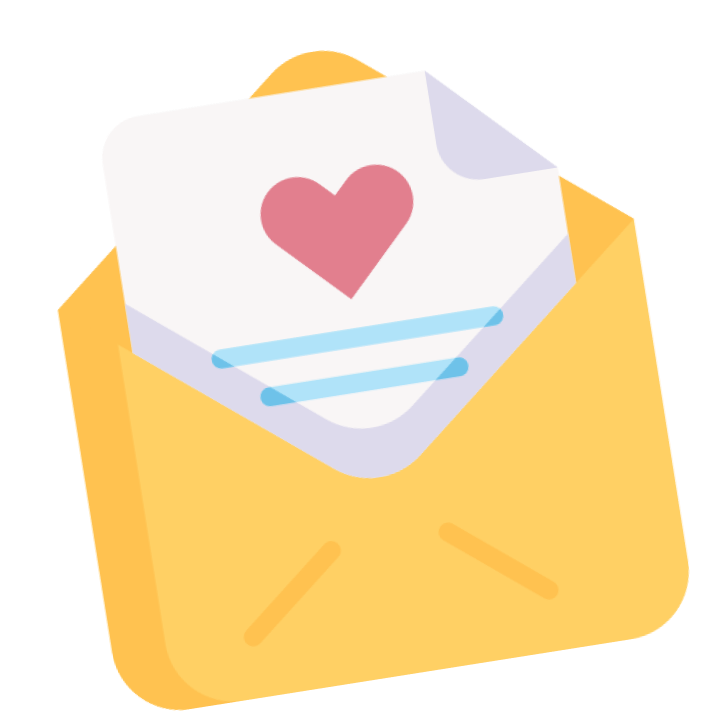 Write the message of your letter directly from your phone or your computer. You can write up to 3000 characters.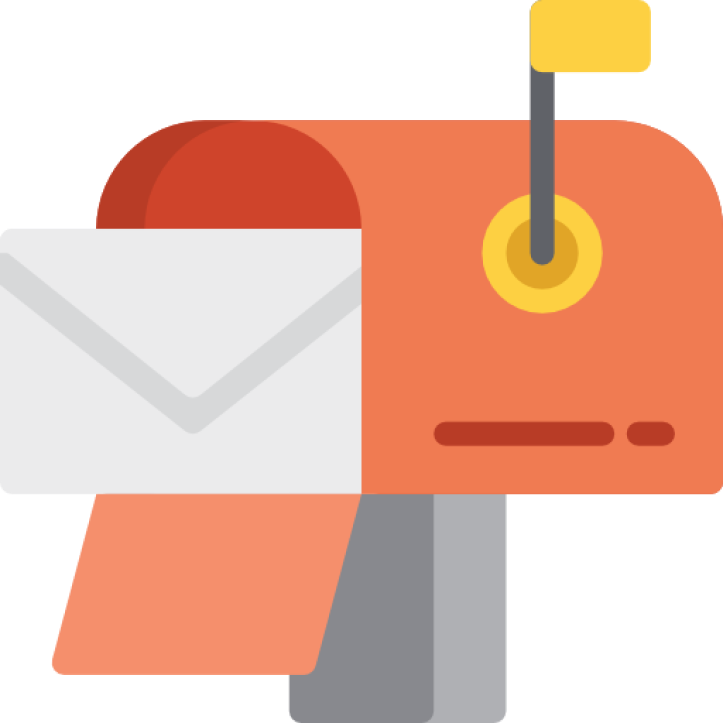 2. Set the destination address
Add the name of the recipient and the address of your choice. You can send you letter anywhere in the world for the same fixed price.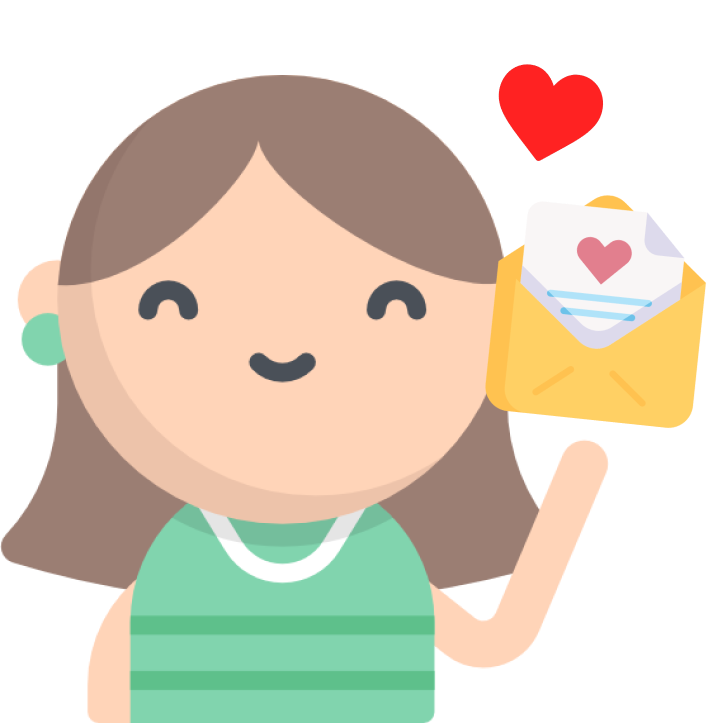 Postaly will take care of printing your letter on standard A4 paper and send it in a nice private envelope.
There are no hidden fees – what you see is what you get. We're not a bank, so what you're paying for is the printing, stamping and sending of your letter globally.
✔︎ Printing & envelope
✔︎ Stamping
✔︎ Worldwide delivery
Used by 10 000+ happy users
Just received my first postalie postcard 🤩 the quality is great, and it can be customized ! We may have forgotten this feeling when you open your letter box, and you have something else than adds... Postalie is perfect to please the persons you love !
Amazing customer experience. Very easy to use, practical, filled with many details and suprises such as a personalized signature section, that I've used to make a drawing that my friend will definitely love. As well as the many services they offer, such as sending a card to a celibrity you love...10/10!!!
Amazing service. The product is great and it really helps people around the world connect in a more personal way.
This app is really nice, especially if you like photography. It lets you use your own photos and has a lot of features to personalize your postcards. It makes sending cards a lot easier and saves a lot of time.
Really easy to use, with no account to create! I highly recommend it!
Amazing idea, efficient and well designed ! Highly recommended 🙂
Frequently Asked Questions
Write and send your letter to anybody, anywhere.
No app & account required • Private and secured